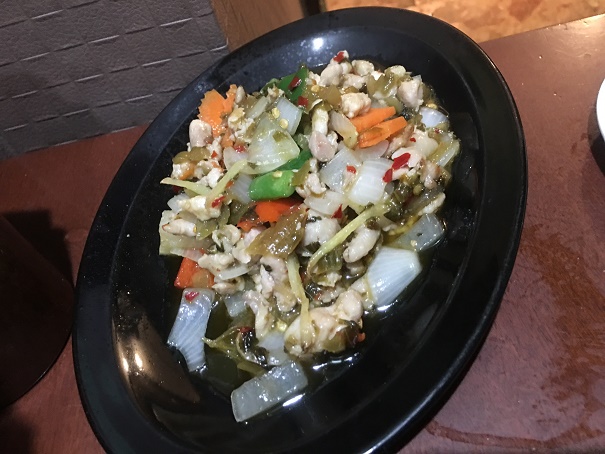 The restaurant is located in the dining area of the building, a minute's walk from Takadanobaba Station in Tokyo.
Nong Inlay is a ethnic Shan restaurant in Myanmar.
It is also introduced in the drama version "Kodoku no Gourmet(Solitary Gourmet)" (Season 6, Episode 6), and I can look forward to it.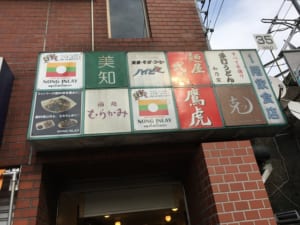 Caution!!
After this, the insect image comes out!
If you don't like it, close your eyes or close this page!!
There is an introduction of the dish at the entrance.
There's something disturbing at the bottom alongside ordinary dishes...
In the newspaper article stuck on the door, the characters of the "insect gourmet" are written!
Is it all right? I'm worried...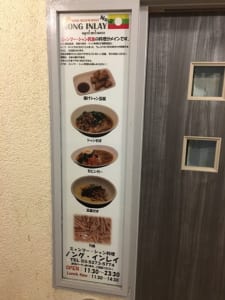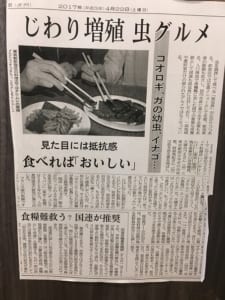 The menu is more normal than I thought.
images of "Solitary Gourmet" are pasted in some places, and it appeals to the whole.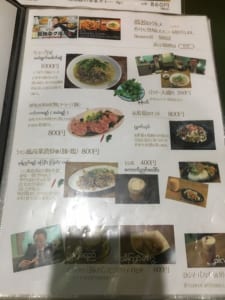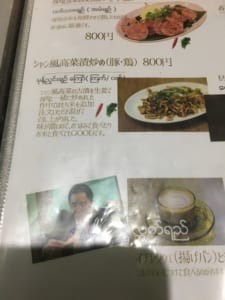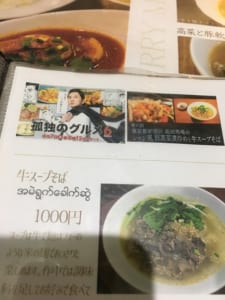 I'm in the Exotic Zone!
There is a feeling of resistance considerably, but it is a special opportunity.
Frog is chicken-like and don't have much exotic feeling, so let's challenge the insects that were uncomfortable and couldn't be eaten in the drama ...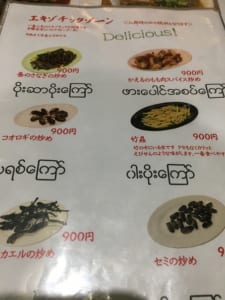 The menu that Goro ate in the drama is
Tea leaf salad
Stir-fried shan-style pork with pickled chinese cabbage
Sticky rice
Beef Soup Soba
Ichakue (Fried Bread)
Milk tea
But this time, I'll try to eat what Goro didn't ask for.
Some are the same, but my menu is
Stir-fried shan-style pork with pickled chinese cabbage
Sticky rice
Catfish Curry
Bamboo bugs
It is.Half is the same lol.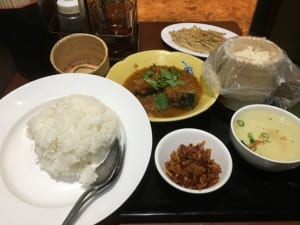 The spice feeling is not so strong in the catfish curry.
The catfish itself has less fat, and has a texture similar to boiled soft yellowtail.
There is little spice feeling, but there is a refreshing taste of pacchie so I will not get tired
The curry comes with rice.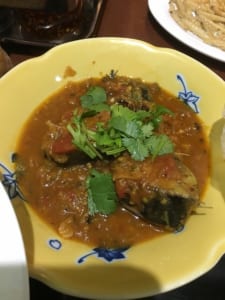 Goro was eating sticky rice in the drama.
It goes well with side dishes, but the amount is not very large.
If you don't have enough, you may refill order it like Goro.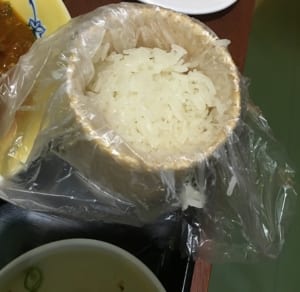 Stir-fried shan-style pork with pickled chinese cabbage.
Goro was eating this too.
The sour ness is effective, and the texture of the vegetable which was crispy increases the appetite.
It's good to eat with sticky rice like a drama.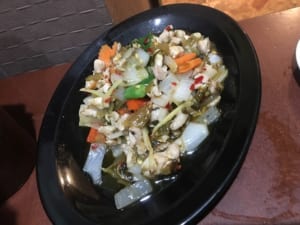 Come on, exotic guy!
It is a bamboo bug.
It seems to be a bug in the bamboo.(Simple naming!)
It's a taste that bothers me, but...
As it says for beginners, it doesn't make you feel the bug very much with a crisp texture like a snack.
It is able to replenish valuable protein well.
I didn't like insects, but it's interesting because it looks cute after eating.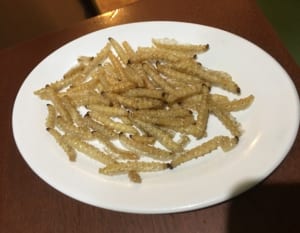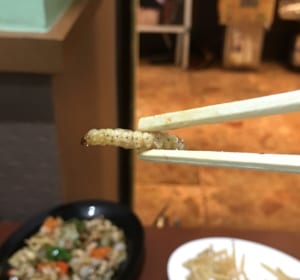 Seasonings such as nampler and chili peppers are put on the table like a Thai restaurant.
If you eat while seasoning as you like, it will come closer to the taste of Shan people.(Maybe)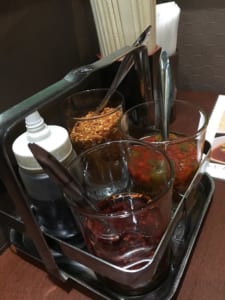 They all had delicious and exciting dishes, and were attractive enough to want to come again.
There are a lot of other attractive and exotic menus, so I'd like to try again!
Address: TAK11 1F, 2-19-7 Takadanobaba, Shinjuku-ku, Tokyo
Opening hours: 11:30-23:30 (L.O. 23:00)
Tel:03-5273-5774
Official website http://nong-inlay.com/