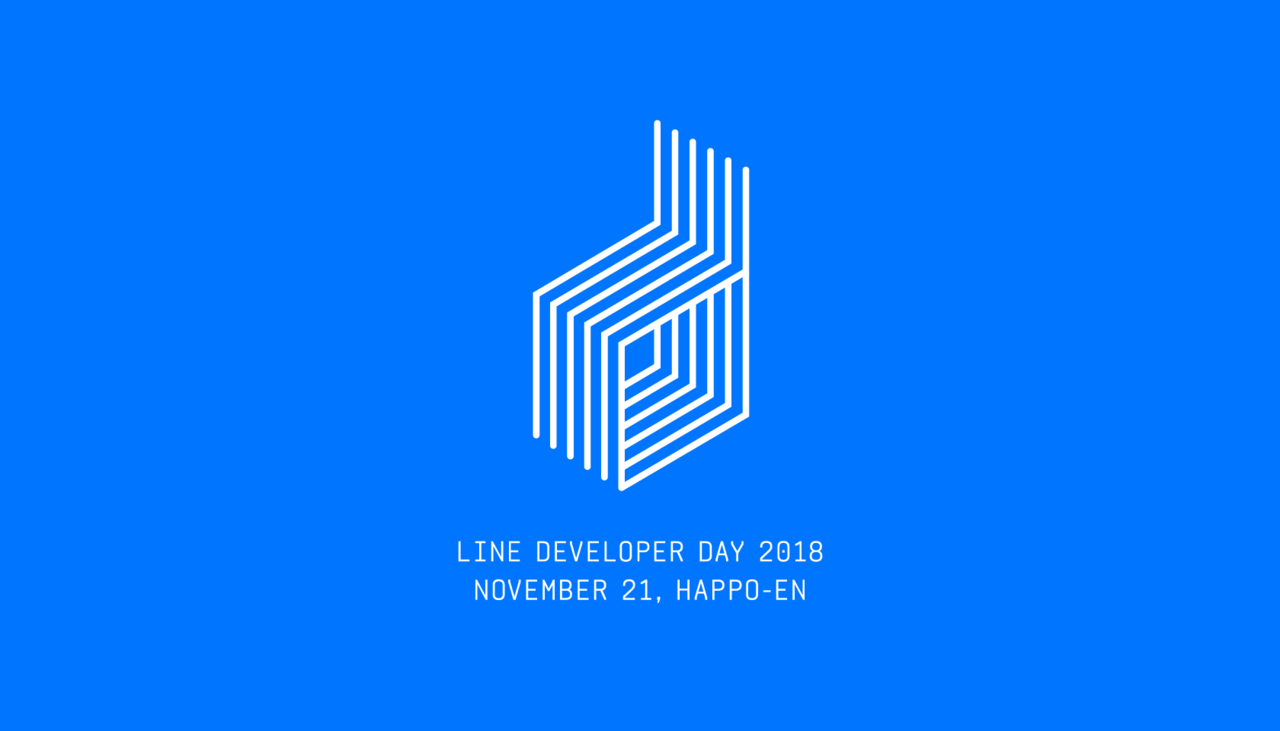 I participated in LINE DEVELOPER DAY 2018, a conference for LINE engineers!
In addition to the wonderfulness of Happo-en(Japanese garden) at the venue, I was overwhelmed by the hospitality of the LINE staff and the amount of information in each session.
I participated in everything from the opening session to the closing session to the social gathering, but since I have too much volume to write about all the contents, I will write about the overall atmosphere and the points that left an impression.
Admission to Yahoen
Exit Shirokanedai Station to the left and you will see Happo-en on the other side.
As you go through the gate, the number of people increases and gets more and more excited.
There is a little distance from the curtain to the reception, and the staff with lanterns have a great smile and good morning! Greets me.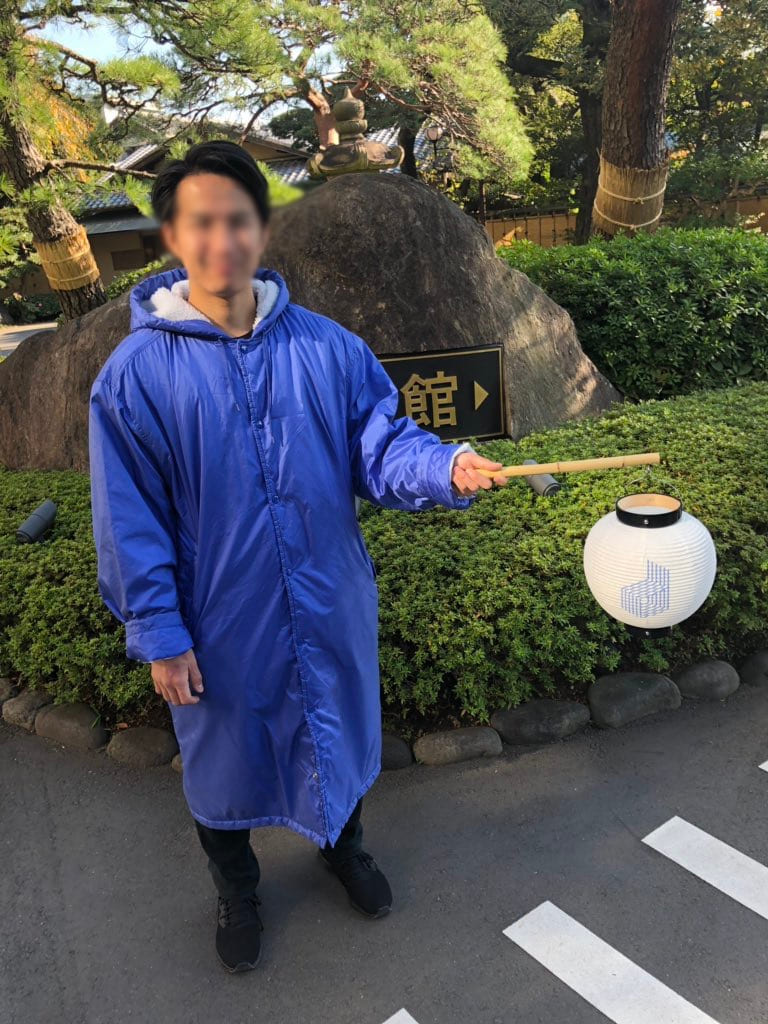 If you follow the official account, the URL for the reception will be delivered, so you will have the reception staff tap.
As an aside, there are over 1000 followers (participants) on the official account.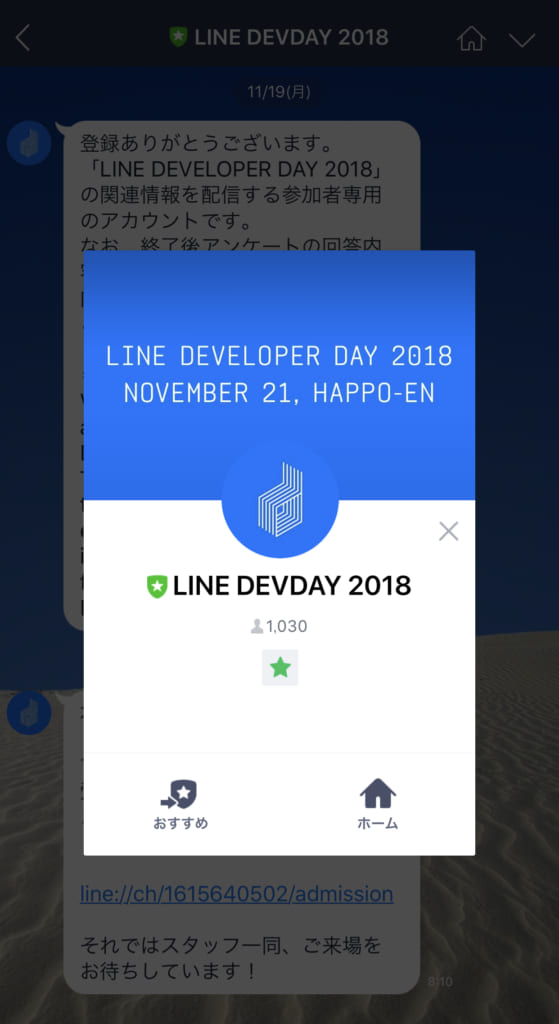 There is a large lantern monument in front of the entrance, and there is a large word LINE DEVELOPER DAY 2018 on the entrance.
There is a cloak room on the 3f of Hachihoen, so you can leave your luggage.
This is handled by Happo-en staff, but like the LINE staff, it has the same hospitality and was pleasantly served by customers.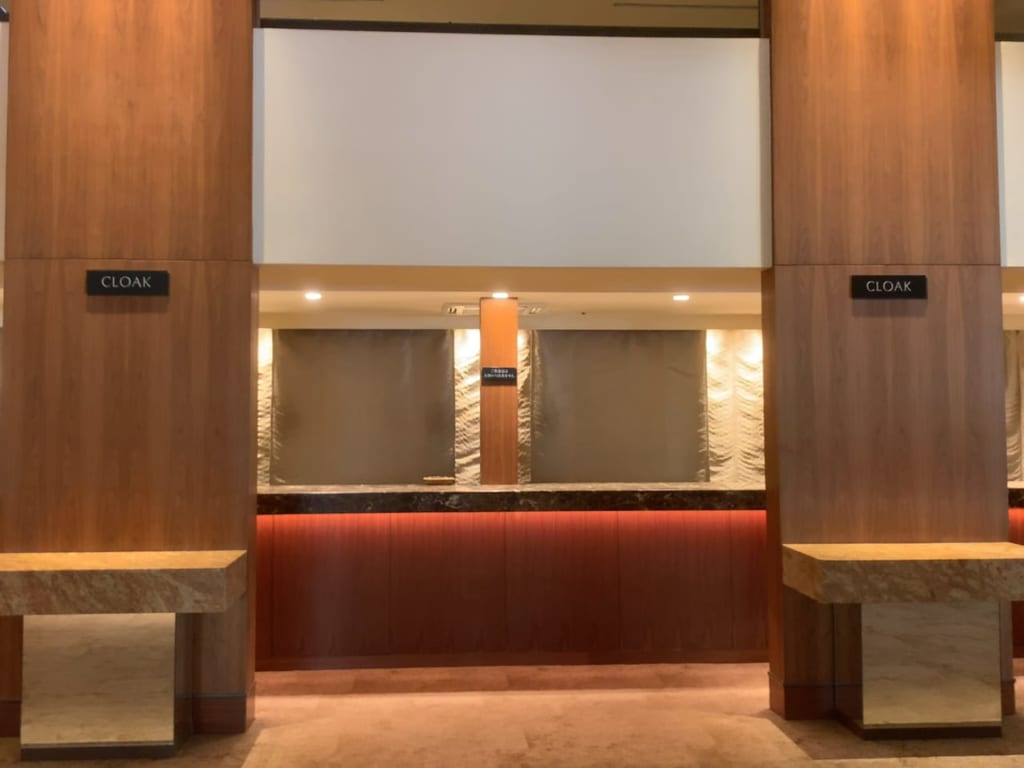 Opening Session
The opening session was the largest HALL A, but it was packed at 10:30.
I could only stand and watch, so I sat in the other hall, which is a satellite venue, to secure seats for the next session.
(I'm glad the seats were empty)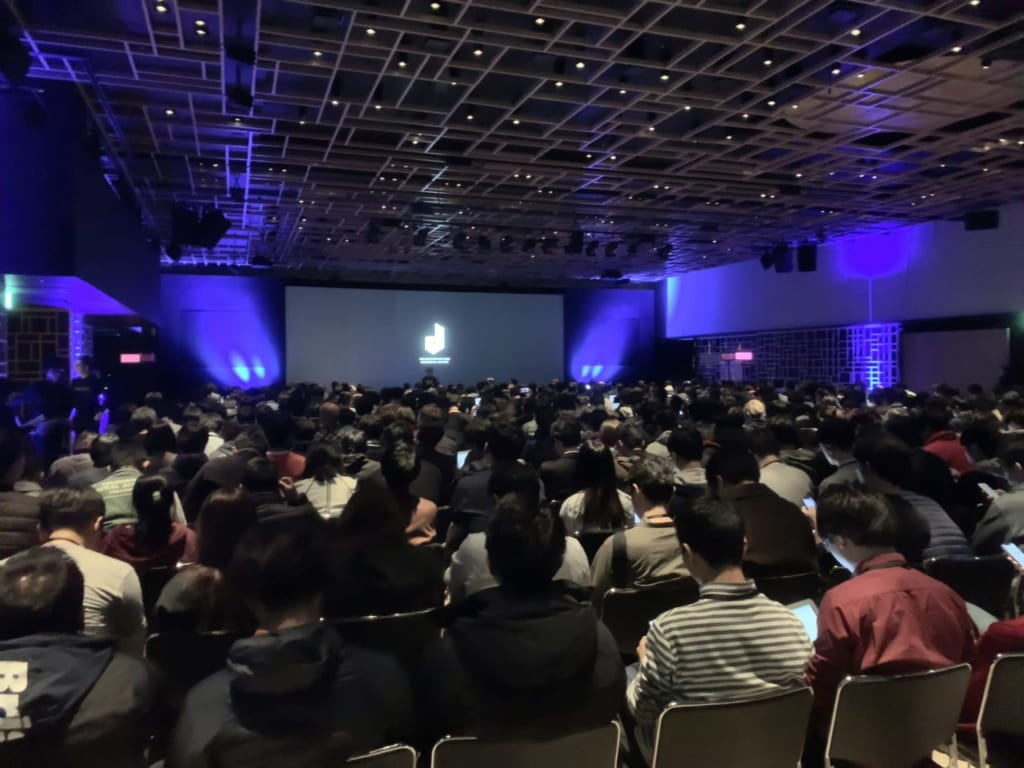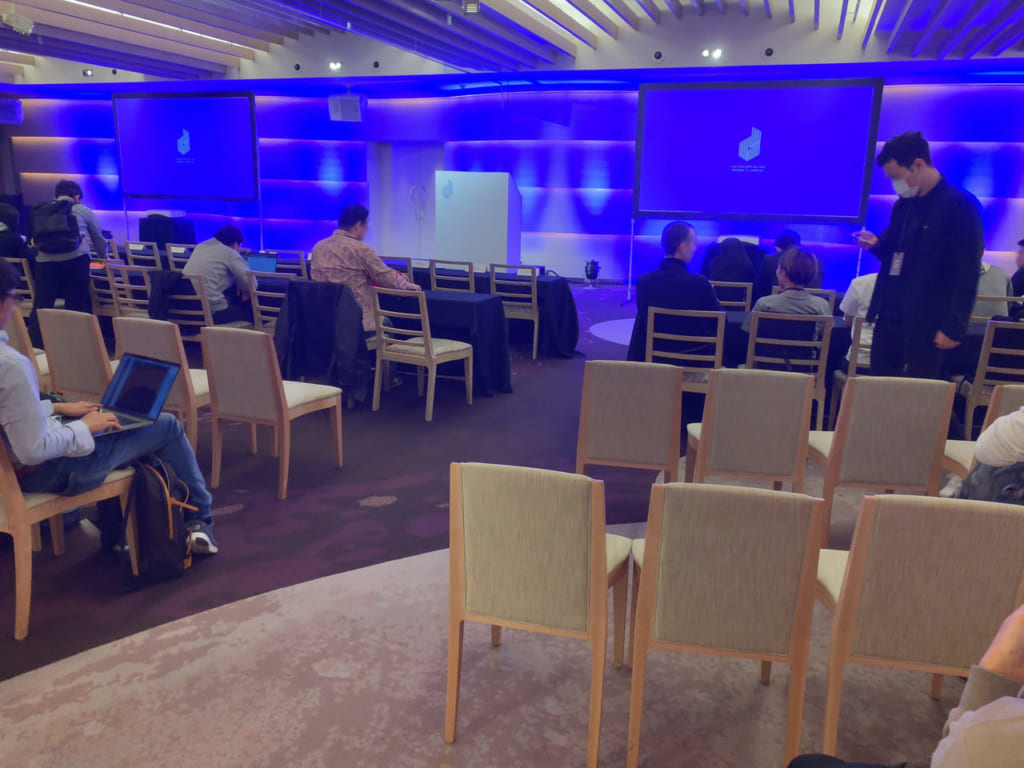 In the opening session, you talked about the items LINE is working on and its vision for the future, but even with this alone, you can see that LINE is challenging in a very wide area.
The theme of LINE is Connect. Connect users-web services-devices.
LIFF (LINE Front-end Framework) released this year is a platform that can provide recommended content to customers
Develop Clova skills with CEK (Clova Extensions Kit)
Join token economy system using LINK Chain.
Focusing on AI fields such as speech recognition, image recognition, and personalization.
Chat Engine and OCR (copying the characters in the image uploaded to the talk is possible) will be released.
The OCR function can actually be used with the desktop version of the LINE app.
Focusing on AI and blockchain, and think that we can get the synergy effect.
Also entered the fintech field. Cash settlement is the mainstream in Japan, but cashless is the mainstream overseas
LINE Pay currently has 40 million users, with global transactions exceeding 125 billion JPY/month!
LINE Pay will work with QUICPay later this year to support contactless payment.
LINE insurance released.
LINE smart investment makes it easy to select the field you are interested in, and you can invest while receiving advice.
After all, it is very much when enumerating it. lol
I'll try to find out a little bit about what I was particularly interested in in the above.
LIFF (LINE Front-end Framework)
LIFF is a platform that implements web apps that run in the talk room of LINE apps, allowing web services to be completed on LINE apps, which greatly improve UX.
LIFF frequently appears in other sessions, which suggests that it is an important position in LINE.
*To create LIFF, you need an API-type LINE account such as LINE "Business Connect" and a LINE@ channel with "messaging API" enabled.
News Release 【LINE】New Features of "Messaging API", "LINE Front-end Framework".
Token economy and LINK Chain
Token economy refers to the economy of using tokens (instead of money, for example cryptocurrencies).
In the present age when users are consumers and producers (contents such as SNS, blogs, reviews, etc.), it is hoped that the content will be further developed by appropriately returning to the producers.
Until now, other web services had a mechanism for returning, but there is a problem that it is small and the mechanism for returning is not fair.
By using the LINK chain using blockchain technology, we can see all cash and point exchanges between users and companies, and solve problems such as transparency, fairness, safety, incentives and so on.
Speaking of which, LINE can't trade in Japan, but it operated a cryptocurrency exchange called BITBOX.
It seems that three dApps are currently being developed in stages. (Product reviews, gourmet reviews, location reviews)
It will start in earnest from next year. Let's expect!
LINE Pay episodes
I'll introduce one because the episode of Mr.Ikeda daughter of the financier was interesting.
During an important meeting, his high school daughter called LINE, saying, "Dad, buy clothes, send 5,000 yen with LINE Pay right away! It's just 1 minute to check out!"
I had to return immediately during the meeting, so I sent 5,000 yen with LINE Pay. (About 10 to 15 seconds)
After that, when his daughter contacted him on the LINE, saying "Thank you!", The conversation started and it led to communication.
LINE Pay helps build a good parent-child relationship.
I was impressed that it was a smiling parent and child episode, and at the same time, it was a new way of giving pocket money.
Demo and Cafe atmosphere
In front of Cafe, there were games using facial image recognition, demos of voice recognition with Clova and taking pictures and sending it to LINE Talk.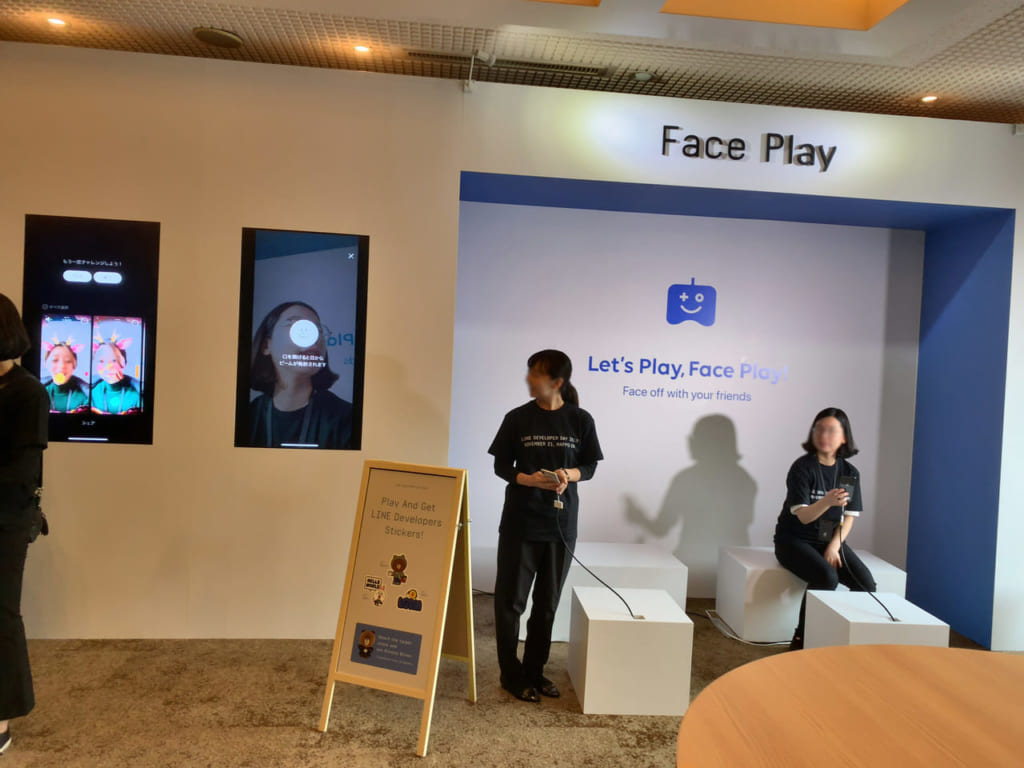 At the Cafe, LINE Pay was distributed to LINE Wallet for 200 yen, and there was a demo of LINE Pay where you could buy a drink.
The water in the lantern-shaped plastic bottle and the sweets with the LINE character printed on them are cute.
It's nice to have a power strip under the table because it can charge laptops and smartphones.
It was a cafe full of hospitality.
There was also a Lightning Talk at this place where a 5-10 minute presentation was given.
Luxury boxed lunch
The experience so far has made me feel very hospitality, but I was also surprised by the high quality of the boxed lunch.
It was big and delicious.
This may be the first time I've thought it was so delicious with lunch box.
Lunch Sessions
During the lunch session, we had a delicious lunch while listening to the work style and culture at LINE, which has many multinational and multicultural engineers.
LINE has 2,100 engineers globally and aims to reach 3,000.
Studying English is important.
60% of Fukuoka's engineers are overseas.
Connecting bases with LINE video chat.
Communicate important matters such as the evaluation process and personnel system on an equal footing between executives and new employees.
LINE's three most important engineering cultures:

Take Ownership: Move with independence as a matter of self
Trust &Respect: Trust and respect for each other and interested in other people's work
Be Open: Open information and open mindedly exchange honest opinions.Everyone is up to github, so you can look at the problem issue, give advice, and refer to it
When I heard the story, I felt that LINE was a tremendous group of engineers and that the three engineer cultures were a great culture and spirit.
I think that these 3 cultures should have not only engineers but also ordinary office workers.
With this spirit, people in the world can do better, and everyone should be able to work hard and grow together ...
Impressive sessions
Here are some of the things that left a strong impression during the technical session.
I tried to run Clova on Android Things (Lightning Talk at Cafe)
Android Things is IoT Android for embedded products.
This makes it possible to develop applications that control hardware such as GPIO, I2C, and PWM with Android Studio, and is suitable for product prototypes
You can easily develop a device with a GUI by incorporating it in the product, and Raspberry Pi 3 is compatible.
In this session, developed the Clova Client SDK for Android, started Clova with a button, and created a device with Android Things that lights up the LED during conversation.
*SDKs and sample programs will be released at a later date.
They want to increase the number of Clova devices, so device manufacturers are urged to consult.
LINE's approach to the IoT and its future (HALL B)
LINE Things is a platform for connecting devices and LINE apps in BLE to work with Bots and web services.
By combining it with liff plug-ins compatible with BLE, you can easily work with the device and realize a user-friendly UI.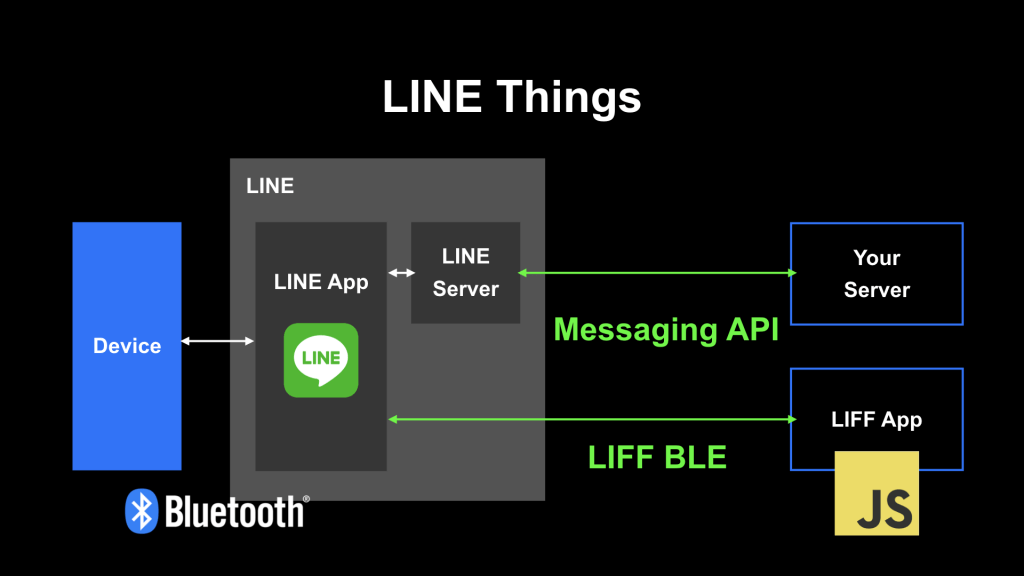 It's great to be able to create UI in LIFF.
With LINE Things, don't have to create iOS / Android and native apps separately, and don't need to download apps from the store.
As examples of services that support LINE Things, there were Panasonic products that can search and record TV programs on LINE talk, demos that turn ON / OFF multiple devices at once, and link with a scale.
It seems that even if you do not start the LINE application yourself, the device can automatically link.
Read/Write/Notification permissions are the same as normal BLE.
EchoNET Lite, if it supports this platform, the common protocol for HEMS is also not needed
I think there are advantages for both manufacturers and users.
If you are interested, please feel free to touch it because there is a sample on GitHub.
I will also play around.
https://github.com/line/line-things-starter
How to develop the fastest interactive app you can think of now (HALL C)
This is a session by Kenichiro Nakamura of Microsoft Japan.
He had the impression that he was a strong software engineer, and it was exciting.
To develop chat bot efficiently and fastest...
Conclusion!
Use the strongest editors and familiar programming languages, templates, and tools!
Too outspoken... lol
But he is right. The best editor he recommends is Visual Studio Code.
At the start of development, it is better to make a template rather than copy and paste the sample of GitHub and fix the namespace and something.
Aren't you using a programming language you are not familiar with because the SDK does not support it?
Actually, the official SDK of LINE Messaging API does not support C#...
So how about this?
I make it! Because I'm an engineer!
He is so cool...!
This spirit is important, isn't it?
Although it's not so easy to support the SDK's programming language.
LINE has published SDKs and tools by the community in addition to the official.
By the way, the C# compatible Bot SDK is as follows.
https://github.com/dlemstra/line-bot-sdk-dotnet
After that, using Bot Desginer and LINE Simulator, you can develop a bot at the fastest speed.
Mr. Nakamura's GitHub is here.
It was a great session in which the engineer's soulful.
Serverless! Introduction to Clova Skill Development (C#) (HALL C)
The speaker of this session is @Chomado, a super famous influencer.
Retired from a system development company that worked as a new graduate in 3 months, and then developed a smartphone application with Xamarin + Azure as a programmer.
She is an advocate at Microsoft headquarters, an engineer and a cartoonist, and a talented woman with an incredible career and skills. (Looks are also beautiful)
The slides of the material are very colorful and easy to understand, and the number of slides is very large, which conveys her enthusiasm.
She will carefully explain the introduction and mechanism of smart speakers and the meaning of serverless with pictures that are easy for beginners to understand.
Microsoft also released a smart speaker ...
As for implementing Clova's skill, he showed me the code and explained it point by point, so it was easy to understand.
All the code is up to GitHub.
Of course it's in C#!
https://github.com/chomado/SmartSpeakerGetLatestArticle
The Clova SDK was just released in July and is a blue ocean compared to other smart speakers, so let's get excited!
今日のセッションの資料です!
ーーー#LINEDevDay での、C# での LINE Clova スキル開発と LINE bot への接続 https://t.co/rxMZjKIJR9

— ちょまど@千代田まどか (@chomado) November 21, 2018
Closing Session
The closing was the same venue as the opening.
It is roughly such a feeling.
LINE boot awards prize is 10 million yen.
LINE boot awards 1125 entries from around the world.
The winner was an Indonesian team and a high school student.
Indonesian iCal ica (person's name) bot game.
It leads to dating through games.
They didn't mean it, but the Japanese flirting (pronounced as = icha icha) and iCal ica can be linked nicely.
For high school students' work, LINE bot decides the number of classes.
For this Dev day, I would like you not only to use technology but also to think of options to work with LINE.
Sharing of knowledge, mind and vision is necessary for technological evolution.
The CTO is doing OJT(On The Job Training).
Summary and impressions
I intended to omit it, but there are many articles...
The energy of this conference was so great.
It is such a feeling when I enumerate the impression roughly.
Too generous.
The mind of hospitality is the best.
A group of the strongest software engineers
I became a LINE believer as a user and a developer.
I want to spread LINE's technology to the world by utilizing the LINE platform.(Sense of mission)
I really wanted to write about the social gathering, but I want to make another article because there is too much volume to write there.
It will be held next year, so I would like to participate again if possible.This time, it is a lottery.
By then, I would like to study the LINE platform and plan products and services that I have used.
By the way, I went in a suit, but most of the participants were plain clothes.
I intended to dress up, but it didn't fit the atmosphere around me, so I'd like to wear casual clothes when I have the next opportunity.
At this conference, I felt that LINE is a great group of companies and engineers.
Interns receive 400,000 yen per month.
If you are thinking of changing jobs or getting a job, or if you are worried about how to work as an engineer, salary, or treatment, why don't you visit LINE?
This slide and some videos were up.
If you were unable to participate, if you joined but wanted to look back, please.
Slide
https://www.slideshare.net/linecorp/presentations
Video
https://live.line.me/channels/31960
https://www.youtube.com/playlist?list=PLI2S-k0Fa59uvsnbkf2naoqmpbwtux6sI